Port Mac Guitars to receive a rare Ibanez "Passion and Warfare" Steve Vai Swirl Universe
<
href="https://portmacguitars.activehosted.com/lt.php?notrack=1&s=bad97c655476f96a390a72c05a742011&i=30A35A2A94" style="margin: 0px; outline: none; padding: 0px; color: rgb(4, 95, 180); display: block; min-width: 100%;">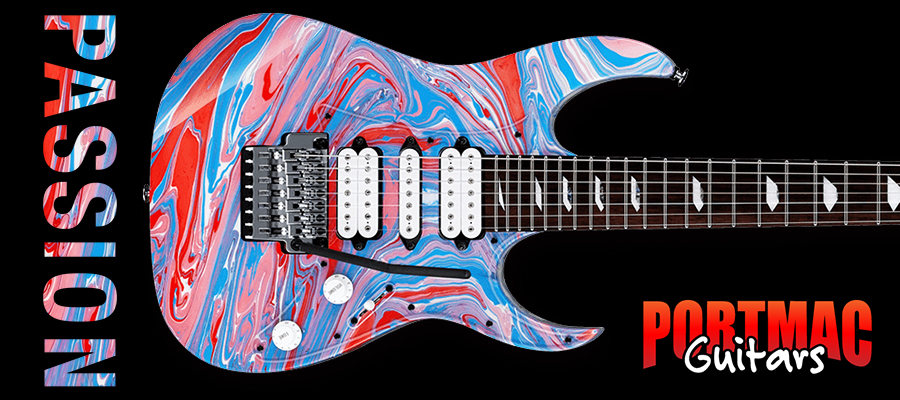 Port Mac Guitars to receive a rare Ibanez "Passion and Warfare" 25th Anniversary Steve Vai Swirl Universe in January.

After selling our last Silver "Passion and Warfare" Universe out in less than 20 Minutes, Port Mac Guitars is incredibly lucky to now be receiving a second Anniversary Universe - this time in the "Passion" configuration.

Only 77 created worldwide, this Steve Vai model is a quintessential collectable as well as being a truly remarkable and unique Instrument.

2015 marked the 25th anniversary of the release of Steve Vai's landmark solo album, Passion & Warfare. Critically acclaimed and publicly celebrated for its unique artistic vision and sheer musical muscle, Passion & Warfare, is now considered the milestone that marks the arrival of the 7-string solid body electric guitar.



Released in early 2016, the UV77PSN is a custom swirled, Japanese made masterpiece expertly appointed by Hoshino's Master Craftsman and Steve himself.

Using the same colourful swirled patterning associated with the original Universe, Ibanez presents this 21st century re-visitation of Passion & Warfare. These handcrafted guitars draw on the colour schemes present in the original album artwork, depicting the "Ravages of a war-torn hell juxtaposed against a nirvana-like state of passion for life and love"
.
Featuring Dimarzio Blaze™ Pickups in all 3 positions, a Tilt Neck Jointed One Piece Maple Universe Neck with adorned brushed Nickel Neck Plate and a hand etched Disappearing Pyramid Inlay, the craftsmanship and finish on these instruments truly encapsulates everything masterful about Japanese produced instruments.
Also coming with a Ibanez Hard Case and Certificate of Authenticity mounted into a Display Frame with matching Swirl Picks, this is truly a Guitar of the ages. Shipping is of course Free and is Fully Insured - Australia Wide.

Ibanez do not produce many unique models like this Universe, as they tend to only do them for extremely special occasions.

That is another factor that makes this Guitar so desirable, not just for today but well into the future.

Port Mac Guitars would like to welcome any expressions of interest into this amazing machine and the Rarity of this instrument will garner the full attention of our specialist Staff.

Purchase Options are a plenty. You can either pay for it in one transaction, or it is able to be

Online Lay-byed

over a 3 month Period.

If a longer Lay-by period is needed, by simply joining our

500 CLUB

you are able to Online Lay-by the Universe for 6 months with just a 10% Deposit.

STUDIO19 is also offering an Online Rental on the item from $121 per week.

Or, as part of our

Online Trade Hub

, you can trade one or multiple items towards either the full amount or as a deposit towards this beautiful machine.

To see more information, specifications and purchase options please click

HERE

or any of the images you see. Experts on anything Ibanez, we are more than happy to answer any possible question you may have on this Once of a Lifetime Instrument.
---
Leave a comment